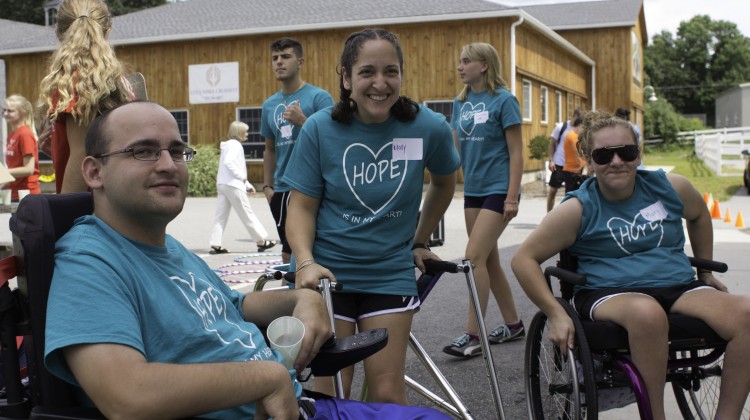 Our Donors
Camp Care primarily relies on the support of our donors. Over the years we have met so many wonderful people and families who continue to support our efforts.
Donate now and help children and individuals with special needs reach their highest potential physical and cognitive function while enhancing self-esteem and emotional growth.
Camp Care is a 501(c) (3) charitable organization. Donations to Camp Care are tax deductible
Send a Donation by Mail:
Please make your check payable to "Camp Care" and send it to:
Camp Care Inc.
106 Route 66 East
Columbia, CT 06237
To Make an Online Donation:
You may donate online, safely and securely, by using this PayPal link:
Donors 2016
A heartfelt thank you to our many supporters. We cannot do this work without you.


Mr. Whitman Alvin,
Ms. Barbara Alvin,
Dr. and Mrs. Berkman,
Mr.& Mrs. Avery/Brennan Families,
Ms. Nicolette Banbury,
Mr. Beverly Russo,
Mr.& Mrs. Bibler,
BNY Mellon Community Partnership,
Ms Carol Britton,
Mr. & Mrs. Boccalatte,
Farrell/Geenty/Sheeley/Boccalatte/Gaurino,
Ms. Dorothy Bohn,
Mr. & Mrs. Vera Bowen,
Mr. & Mrs. Brodeur,
Mr. Thomas Butkus,
Mr. Spencer Cain,
Dr. & Mrs. David Cameron,
Ms. Nancy Celentano,
Fidelity Charitable,
Chubb & Son,
Ms. Brynne Cohen,
Dr. & Mrs. Cota,
Mr. & Mrs. Covey,
Ms. Cynthia Daniels,
Ms. Suzanne Davis,
Mr. DeFranco,
Mr. & Mrs. Doherty,
Dr. and Mrs. Driscoll,
Mr. & Mrs. Dunbar,
Mr. & Mrs. Fabian,
Ms. Lynne Flanagan,
Mr. & Mrs. Fleming,
Mr. & Mrs. Foreman,
Ms. Deborah Freedman,
Ms. Joan Fuller,
Mr. and Mrs. Greb,
Mr. & Mrs. Gregor,
Ms. Lisa Griffen,
Mr. & Mrs. Harris,
Mr. Joel Helman,
Ms. Brittany Ireland,
Ms. Erica Jen,
Ms. Vanessa Kass,
Ms. Sarah Keleher,
Ms. Joyce Knowlton,
Mr. & Mrs. Landrey,
Ms. Shirley Langford,
Mr. William Lavernoich,

Ms. Rita Madison,
Marlborough Clinical Practice, LLC, Nicolette Banbury,
Ms. Eileen Marshall,
Ms. Anna Marie Matt,
Mr. & Mrs. McCalley,
Mr. & Mrs. Kenneth & Geraldine Mendoza,
Mr. Jeffrey Mendoza,
Mr. Michael Mendoza,
Mrs. Robert Merrer,
Ms. Charlene Minucucci,
East Woodstock Congregational Church Missions Committee,
Mr. & Mrs. Daniel & Laura Moran,
Dr. & Mrs. Stephen Moran,
Ms Murray Morna,
Norwich Tech High School Student Trustee Account/Monica Haight,
Mr. & Mrs. Noy,
The Popinchalk Family
Mr. Richard Remley,
Mr. & Mrs. Russo,
Mr. & Mrs. Ryor,
Savings Institute Bank & Trust/Jennifer Theofanidis-Cronin,
Ms. Starr Sayres,
Chalres Schwab,
Ms. Karen Scotti,
Mr. & Mrs. Sharkey,
Mr & Mrs Stuart & Joan Sidney,
Mr. & Mrs. Smallidge,
CPA Tax Solutions,
Mr. & Mrs. Stenglein,
Ms. Kristen Sukatos,
Mr. & Mrs. Sullivan,
Ms. Blair Tarara,
Ms. Kerstin Templeton,
Mr. & Mrs. Toce,
Travelers,
Mrs. Trawczynski,
Ms. Veronica Vasko,
The Warren Family,
Mr. & Mrs. Mark White,
Dr. & Mrs. Clifford Williams
*Additional donations made anonymously

We apologize for anyone we left out accidently.