What's Happening at Camp Care

Intensives, Inspiration, Celebrations, and Generosity
With a theme like "United We Stand," you really can't go wrong! Our intensives went off without a "hitch" as we welcomed about 40 campers and their families from surrounding local states as well as one from Minnesota and one from California! We thought it a fitting tribute to the theme to invite Steve EMT, para-Olympian for Team USA and teacher at RHAM, to give an inspirational message to encourage campers and families and friends to press on towards their goals.
Click here for more Photos!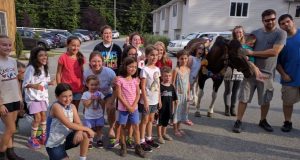 Spirit Rides Again and Again
Once again, we celebrate our oldest and longest working horse in our program; a real gem who is loving, gentle, and steady on. We are fortunate to have animals who have just the right temperament for our special riders to enjoy and benefit from. Spirit has been loved by everyone for many, many years. He is our oldest and longest working horse in our program and has been named Camp Care Horse of the Year for 2016. He wears his successes well!
Click here for more Photos!
A Warm Welcome to Camp Care
Our Mission is to help children and individuals with special needs reach their highest potential physical and cognitive function while enhancing self-esteem and emotional growth.
Camp Care Inc., a not-for-profit organization that began as a day camp in 1997, has evolved into year-round programs. The expanding programs offer various ways to enhance the developmental process in children and individuals with special needs, as well as provide an avenue for people to get involved with community service opportunities. Our indoor therapeutic horseback riding program which provides equine-assisted activities, has been named a Premier Accredited Center by PATH, Int'l, The Professional Association of Therapeutic Horsemanship, International. The indoor arena allows participants to ride year round. In addition our recently established boot camp program allows modified physical fitness classes three days a week throughout the year. The intensive summer and winter day program offers physical therapy for the child and a chance for families to enjoy each other while finding a network of support from other families.
Camp Care therapies are provided at the Crossroads Physical Therapy Facility, and recreational activities are held within the Camp Care grounds and community. Meaningful and enjoyable experiences motivate children with special needs to actively participate in educational and therapeutic exercises, resulting in more effective treatment outcomes. Camp Care therapists and parents have witnessed first-hand these positive outcomes in children who have attended our programs.
Camp Care is open to people of all faiths as well as to those with no particular religious affiliation. This is where community begins – acceptance, development, faith, hope and love.
Dr. Stephen Moran
– Founder and President